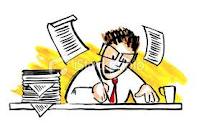 Penerbit Elsevier menerbitkan sekitar 250.000 artikel ilmiah per tahun yang dimuat dalam 2869 jurnal dengan memperkerjakan 7000 editor dan ratusan ribu peer review. Melalui ribuan jurnal tersebut, seringkali ditemukan penulis salah memilih jurnal yang tepat untuk manuskrip mereka. Sebagai contoh, untuk bidang saya sendiri, terdapat sekitar sepuluh jurnal yang relevan dengan bidang saya. Manuskrip kerap ditolak oleh Ketua Dewan Editor karena dianggap tidak sesuai dengan misi jurnal. Untuk melakukan trial-error demi mendapatkan jurnal yang tepat bisa menghabiskan waktu lebih banyak dari perkiraan penulis.
Elsevier telah menyediakan sebuah fitur menarik, yakni 'Match your abstract to journal' untuk menemukan target jurnal yang tepat bagi artikel kita.
Fitur ini dapat ditemukan di: http://www.elsevier.com/journal-authors/home
Pertama-tama, klik 'Start matching'
Kedua, ketik judul artikel di 'Paper title'
Lalu copy dan paste abstrak kita di 'Paper abstract'
Tentukan maksimum tiga 'field of research'. Semakin banyak, maka semakin besar kemungkinan jurnal yang tepat untuk artikel kita.
Klik 'find journal'
cek 'Search result'
Informasi paling penting untuk dicermati adalah nama jurnal, impact factor, percentage of acceptance.
Untuk mendapatkan keterangan lebih lengkap, klik View scope and more information atau Submit Your Paper di bawah tiap nama jurnal yang direkomendasikan.
Pekanbaru,